Overview
Updated 11/18/2021
Our ADP Integration is a Flat File / CSV that Clients can pull directly from the Back Office tab in the system (ensure your client has the correct Back Office related user permissions).
Here's a basic overview of the process with screenshots to suit:
Create New Contractor/Employee Record in ADP
Contractor Record is Paired with Avionte Contractor Record Individually via the User Manager

Enter Corresponding File Number & Class ID for Each New Contractor

Client pulls Flat File from the Back Office > Pay & Bill Archive According to the Contractor Type (W2, 1099)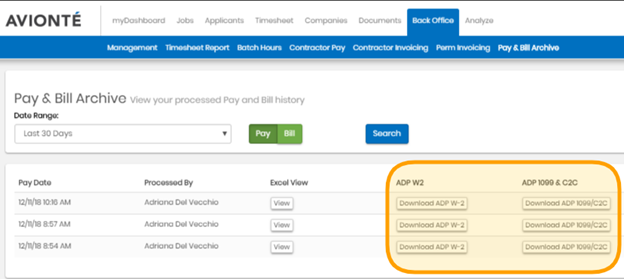 Client can also set the ADP W2 Code and 1099 Code in the Partner Integrations page to feed into the first column. See attached ADP CSV Export Sample.