Overview
Updated 07/26/2022
Contact your AccountManager to initiate the integration. You will also need to contact CareerBuilder and ask for your account to be activated for real-time postings through Avionté.
Post opportunities to CareerBuilder.com directly from Avionté.
Setup
How do I post positions to CareerBuilder?
Setup
Note: Posting jobs to Career Builder is dependent on each user performing this setup. While other marketplace apps function company-wide, CareerBuilder does not. Only if you log in to CareerBuilder as an authorized user will you see CB connection information, and be able to view and post jobs to CB.
Click Account & Settings
Click Avionte Marketplace




In the Search box, type: CareerBuilder




Click the Settings button, for the CareerBuilder integration




Enter your CareerBuilder information

Configure your brand on the CareerBuilder site where you can specify which brands you want to include from their Brand Builder
You can also add a description for each brand here. The description is just something that the user can have to help indicate or remind themselves of which brand is for what. Click the green plus sign to finish setting up that brand in Avionté
You can configure the skins on the CareerBuilder site as well. The skin is the look and feel of that template.

CareerBuilder Vendor ID
Brand (used as your Name)
Brand Description (Further description of the Brand name)
Skin (Color scheme)
Skin Description (Further description of the Skin name)



Click the Save button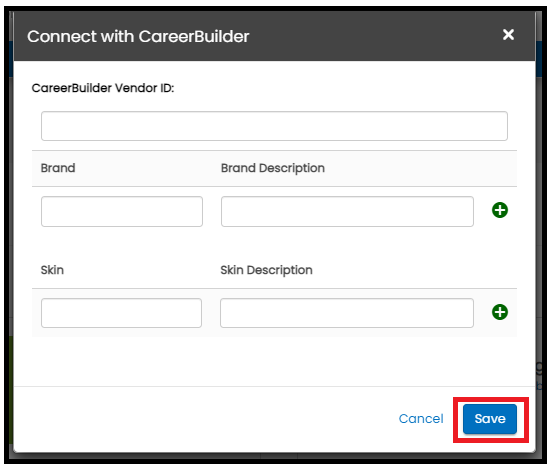 You're finished, and you may start posting!
How do I post positions to CareerBuilder?
Once the initial steps are complete, post a position as you would normally.
Go to the Job Details Page.

After Selecting "Add New Job Posting" and entering the job description, click the "Post to External Job Boards"
If a Job has already been created, then go to the Job Posting Status and Options section.
Click the Eyeball icon (Edit)




If it's a new job, click the Plus icon.




Once those have been entered, click the Post Job button.




If a Job has already been posted, click the Update Job button.




Before the posting is made public, you will be prompted to Review Your Job Post. Once the position is posted, Avionté will notify you that the position is posted to a paid board.